SEPTEMBER BATCH IS SOLD OUT! Next Pre-Orders: October 5 @ 9PM CET
Set your alarms (Highly recommended!) or Subscribe to be notified when new pre-orders drop
– Add info@decibelics.com to your email contacts so you don't miss out –
Questions? Read our FAQ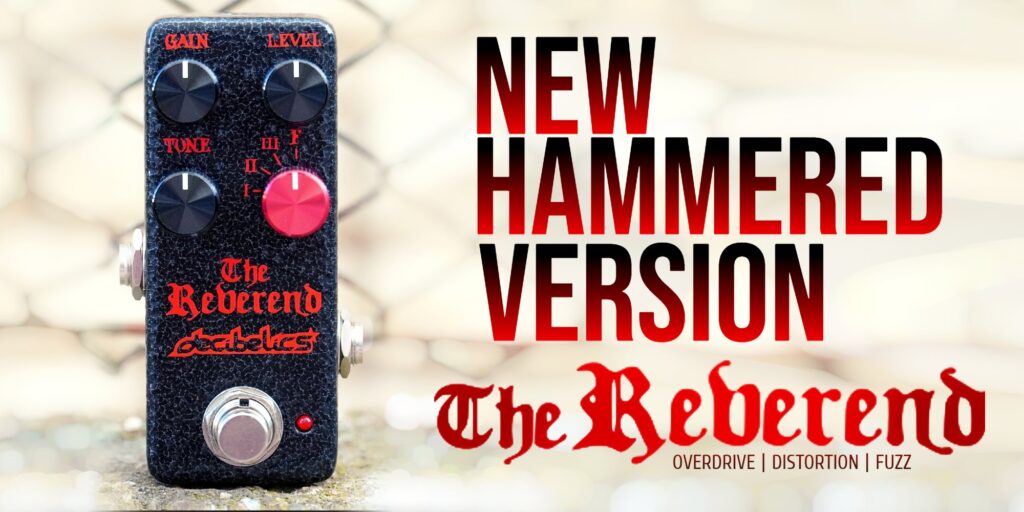 THE REVEREND – OD/DISTORTION/FUZZ WITH 'EXPANDER' CIRCUIT
The Reverend is my take on one of my all-time favorite pedals: The sought-after, vintage Bixonic Expandora – One of the first 'Boutique' pedals, Made in Japan, used among the greatest guitarists the likes of Joe Satriani, Megadeth, Bootsy Collins, Slipknot… And made famous by Billy Gibbons for its ZZ Top signature sound.
The Expandora was a phenomenal Overdrive/Distortion/Fuzz, a highly evolved Rat with an 'expander' circuit that made the pedal dynamically sensitive, allowing users to vary the amount of distortion with the pick's attack or by adjusting their instrument's volume knob. 
Imagine playing La Grange and being able to go from the clean part to the distortion part just by strumming harder. That's the magic of this circuit! 
Apart from the 'Script Logo' beta version (very rare), there were 3 variations of the pedal through the years:
EXP-2000, aka the 'Original Version'. The most famous one, with 2 internal DIP switches to change between 3 gain stages plus the additional 'Forbidden Setting'. 
EXP-2001, a larger version with slightly different sound, replaced the original switches with an external 4th knob. No 'Forbidden' setting on this one.
EXP-2000R, the Reissue version of the EXP-2000. The internal switches were replaced by external ones and added an extra Bass switch. Replaces some of the rare components of the EXP-2000 for more widely available ones, like the TL072 chip.
The Decibelics Reverend is a part-for-part replica of the 'Original Version' EXP-2000 but with added best elements/characteristics of all three versions.
Mini format, to fit any pedalboard
Circuit replica of my original MIJ Bixonic Expandora EXP2000
Tone modeled after my 5 original Expandora (All versions)
Hand Made using Old Style through-hole components just like the originals
Highest Quality components and hardware
Uses N.O.S. RN2206 transistor and JRC4558DD op-amp
Uses OP07 chips and H11F1 optocoupler, fine-tuned to deliver the exact tone and feel of the originals 
4 Knobs, being the fourth one the replacement of the original switches
'Forbidden Setting', the explosive, brutal, gated Fuzz mode found on the EX-2000 and EXP-2000R
Internal Guitar-Bass switch of the EXP-2000R
True Bypass
Low noise floor, Decibelics-Style 
You can choose between Black or Red graphics (Original Polished Case) or the Hammered finish case when you place your order.
Accessories included: The Reverend customized shipping tin, 4 Rubber Feet, Decibelics Guitar Pick, Decibelics Sticker, English Instructions.
+ I build them in monthly runs. Every first week of the month I decide how many The Reverend I'm going to build – depending on the time and stock of components available – and I put them in Pre Order on the Decibelics website. I build them in the following weeks, until they are finished, tested in the studio and I ship them at the end of the month.
+ Every Decibelics pedal is custom signed with the name of the customer on the inner side of the rear plate. Please note that I will write the name that appears on billing address – If you want me to write another name, let me know in the order notes or drop me a message (guillem @ decibelics.com)
+ This is a Pre Order – Your Decibelics The Reverend will be completed and ready to ship 4-5 weeks after the order is placed. In most cases I ship a bit ahead of schedule, so if you are in the process of moving by the time your pedal is being built, let me know beforehand. 
SHIPPING AND RETURNS
+ Prices do not include shipping costs
+ I ship from Barcelona, Spain (Europe) – I use UPS, Fedex, and Correos. Tracked and Insured. I use Express shipping only – It costs just a tad more but it's well worth it: much faster and trouble-free. You are buying a Premium pedal and you'll get Premium customer service. As I reached a fantastic agreement with my shipping manager, prices are similar or even below most non-express shipping costs. Transit time is usually less than a week, but may vary depending on the destination country. Although almost all recently shipped orders arrived on time, please take into account that during the outbreak some shipments may be delayed. 
Express Shipping costs for 1 pedal: USA/Canada 26EUR, Spain/Portugal 6EUR, Europe (EU) 14EUR, Europe (Non-EU) 19EUR, Asia/Oceania 35EUR
Combined orders will have the shipping costs reduced for the 2nd and successive pedals.
+ Any import duties, taxes, or customs fees are not included in the product price or shipping costs. As you know, these charges are the buyer's responsibility. USA customers: FYI, Goods valued at US$800 or less can enter duty-free into the US.
+ Customers from the UK after Brexit: As of January 1st, you may noticed a drop in the price of my pedals, as the 21% EU VAT is no longer applied to UK orders. However, please note that with the new Brexit regulations, and based on what my recent UK customers reported, UK Customs may charge you 20% VAT and a £12 admin fee. Some reported receiving the pedal at no charge, but they seem to be the exception.
+ All Decibelics pedals are covered by our Limited Lifetime Warranty. This warranty covers any manufacturer's defects and is only applicable to the original owner. It DOES NOT cover normal wear and tear or product failure, cracking, breaking, damage, or loss caused by misuse, dropping, abuse, lack of maintenance, improper assembly, or not meeting the criteria of a manufacturer's defect.
+ Orders are final and cannot be canceled. This item is sold As-Described and cannot be returned unless it arrives in a condition different from how it was described.
+ Please note: The Reverend enclosure metal is hand polished like the originals, and may have finish imperfections.
Dimensions with jacks: L 95mm (3.74in) x W 49mm (1.92in)
Power requeriments: 9V DC (MAX) Standard Negative Center – Current Draw: 15mA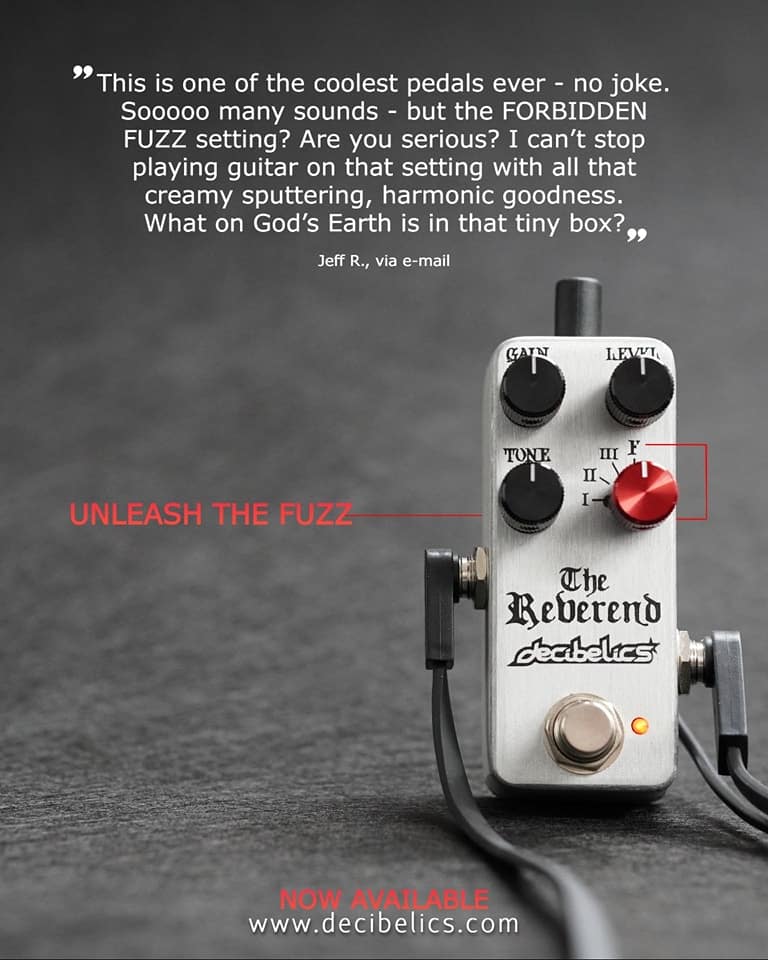 ZZ TOP's Billy Gibbons and his famous 6-in-a-row Expandora display
A lot of people followed the progress of this project with the updates I was periodically posting here, so for the curious I've decided to keep the text and the photos for a while. Enjoy!
MARCH 23, 2022 UPDATE:  After a long, long journey designing the pcb (Had to start from scrap multiple times, due to supply chain break and end of life of some components), I'm glad to announce that the final version PCBs are being made, and will be here soon. I'll post pics of the first prototype as soon as the boards arrive!
MARCH 27 UPDATE: Boards arrived! Everything looks and sounds amazing, though still needs some fine-tuning before going into production.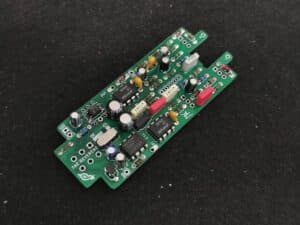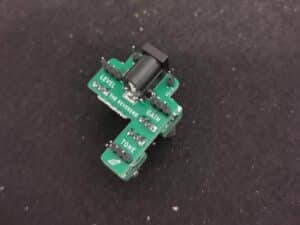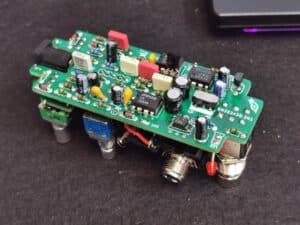 MARCH 28 UPDATE: After a couple of modifications, the PCB is now almost in its final revision (Though it surely will need the last finishing touches). New boards are being produced at this very moment and should be here in a couple of weeks. This is how they will look like.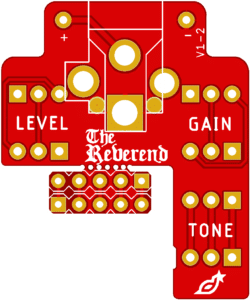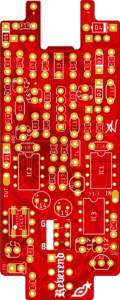 MARCH 28 UPDATE 2: I have designed around 20 different front graphics and I'm currently deciding which one will the pedal get. A couple of examples: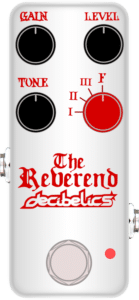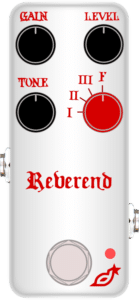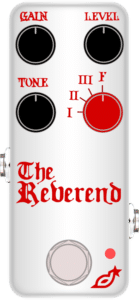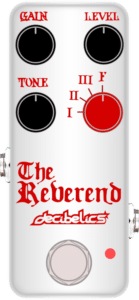 MAY 14th UPDATE: It's been quite a few days since the last update, but you guys know I'm such a perfectionist and 99% good is just not good enough for me so I needed to do the final touches. The Reverend is now at 99,9% sounding as I want it to – Just done the very last modification to the PCB and waiting for boards to be fabbed. Once they are here and confirmed they are perfect I will be ready to go. I'm very off of the estimated launch date but I've worked very hard on this project and I prefer to do the things right instead of rushing and launching a non-perfect circuit.
Auditioning chips and other NOS parts with my 5 original Expandoras (Click to enlarge):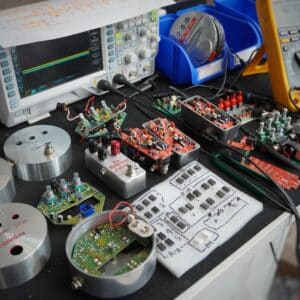 Graphics have been chosen! Made some printing tests and currently deciding between Red or Black (Click to enlarge):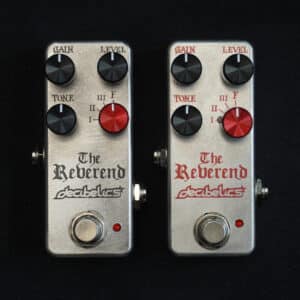 JUNE 10th UPDATE: Boards arrived and I can finally say, they are PERFECT! So the board design, after months and months of hard work is now (finally!) over.
First 4 protos are done: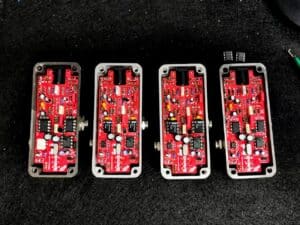 So, what's next? In the coming days, a few prototypes will be sent to my trusty beta-testers, they will test them and let me know what they think. In the meantime I will start preparing all what's needed to build the first production units. Once the testers give me the OK, the Reverend will be launched.
BONUS: Here's a mockup of how the shipping box of the Reverend will (probably) look like: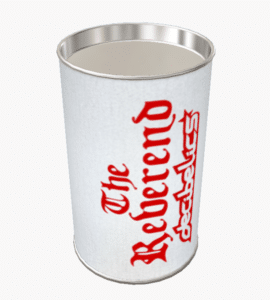 POLL TIME: I'd love to hear your thoughts! What's your favorite color for The Reverend's graphics?
JULY 6 Update: POLL ENDED! Even after a stunning 200+ votes, the results are so close that I've decided to do BOTH COLORS! So everyone will be able to pick their favorite one when the time comes.
After weeks waiting for its production, I've finally received the packaging boxes! They are spectacular and can't wait for you guys to send me your thoughts.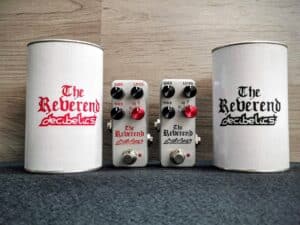 JULY 26, FINAL UPDATE
Over the past few days, my 4 beta-testers have been trying their prototypes through all kinds of guitars, amps, and some of them next to their original Expandoras. I had been receiving very valuable feedback from all of them, which I very much appreciated (Thank you guys!) They all agree in saying how amazing the pedal sounds and responds, and how great every aspect of it is – From the enclosure finish, the feel of the knobs, and even the packaging. So now I can finally say: Mission Accomplished! I couldn't be happier, and I'm now eager for The Reverend to be launched.
Launch estimate: END OF AUGUST / EARLY SEPTEMBER