MARCH 23, 2022 UPDATE:  After a long, long journey designing the pcb (Had to start from scrap multiple times, due to supply chain break and end of life of some components), I'm glad to announce that the final version PCBs are being made, and will be here soon. I'll post pics of the first prototype as soon as the boards arrive!
MARCH 27 UPDATE: Boards arrived! Everything looks and sounds amazing, though still needs some fine-tuning before going into production.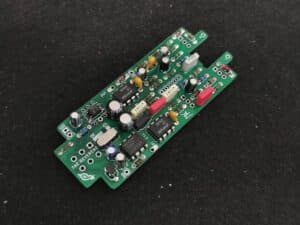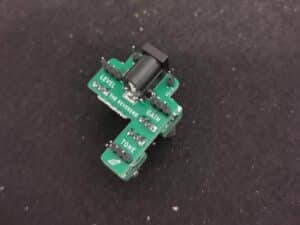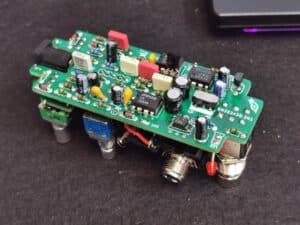 MARCH 28 UPDATE: After a couple of modifications, the PCB is now almost in its final revision (Though it surely will need the last finishing touches). New boards are being produced at this very moment and should be here in a couple of weeks. This is how they will look like.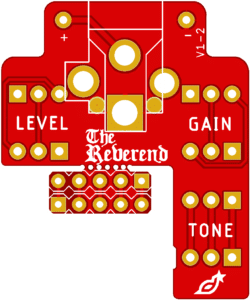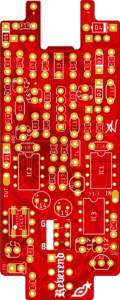 MARCH 28 UPDATE 2: I have designed around 20 different front graphics and I'm currently deciding which one will the pedal get. A couple of examples: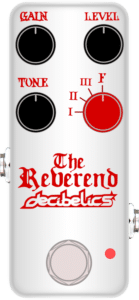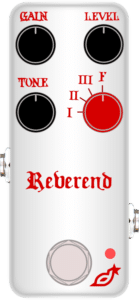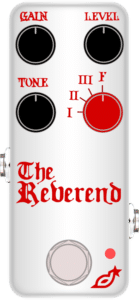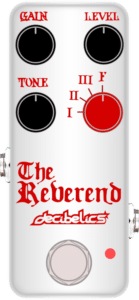 MAY 14th UPDATE: It's been quite a few days since the last update, but you guys know I'm such a perfectionist and 99% good is just not good enough for me so I needed to do the final touches. The Reverend is now at 99,9% sounding as I want it to – Just done the very last modification to the PCB and waiting for boards to be fabbed. Once they are here and confirmed they are perfect I will be ready to go. I'm very off of the estimated launch date but I've worked very hard on this project and I prefer to do the things right instead of rushing and launching a non-perfect circuit. 
Auditioning chips and other NOS parts with my 5 original Expandoras (Click to enlarge):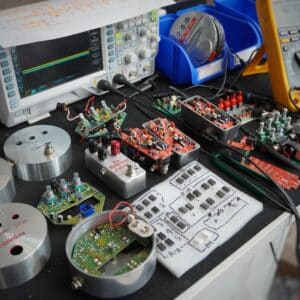 Graphics have been chosen! Made some printing tests and currently deciding between Red or Black (Click to enlarge):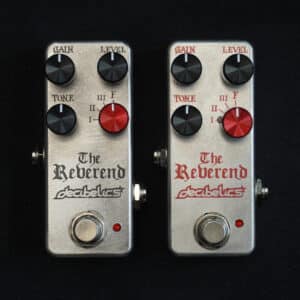 JUNE 10th UPDATE: Boards arrived and I can finally say, they are PERFECT! So the board design, after months and months of hard work is now (finally!) over. 
First 4 protos are done: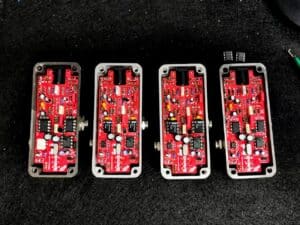 So, what's next? In the coming days, a few prototypes will be sent to my trusty beta-testers, they will test them and let me know what they think. In the meantime I will start preparing all what's needed to build the first production units. Once the testers give me the OK, the Reverend will be launched.
BONUS: Here's a mockup of how the shipping box of the Reverend will (probably) look like: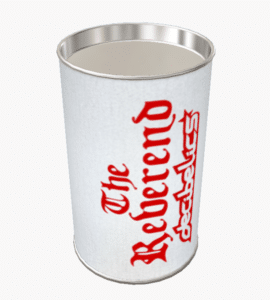 POLL TIME: I'd love to hear your thoughts! What color is your favorite for The Reverend's graphics?
THE REVEREND – COMING Q2 2022
The Reverend will be my take on one of my all-time favorite pedals: The sought-after, vintage Bixonic Expandora – One of the first 'Boutique' pedals, Made in Japan, used among the greatest guitarists the likes of Joe Satriani, Megadeth, Bootsy Collins, Slipknot… And made famous by Billy Gibbons for its ZZ Top signature sound.
The Bixonic Expandora was a phenomenal Overdrive/Distortion/Fuzz, a highly evolved Rat with an 'expander' circuit that made the pedal dynamically sensitive, allowing users to vary the amount of distortion with the pick's attack or by adjusting their instrument's volume knob.
Apart from the 'Script Logo' beta version (very rare), there were 3 variations of the pedal through the years:
EXP-2000, aka the 'Original Version'. The most famous one, with 2 internal DIP switches to change between 3 gain stages plus the additional 'Forbidden Setting'. Uses some now-obsolete parts such as the LM308 chip and the Sharp PC419 (among others) which made it sound very musical. 
EXP-2001, a larger version with slightly different sound, replaced the original switches with an external 4th knob. No 'Forbidden' setting on this one.
EXP-2000R, the Reissue version of the EXP-2000. The internal switches were replaced by external ones and added an extra Bass switch. Replaces some of the rare components of the EXP-2000 for more widely available ones.
The Decibelics Reverend will be a part-for-part replica of the 'Original Version' EXP-2000 but with added elements/characteristics of all three versions. Thanks to my trusty supplier of New Old Stock/Vintage parts, it will make use of some of the nearly-unobtainable NOS components found in the original, Decibelics-style.
The pedal is still in the development phase but here's an advance of what I'm working on:
Mini format, to fit any pedalboard
Part-for-part replica of my original MIJ Bixonic Expandora
Hand Made using Old Style through-hole components just like the originals
Highest Quality components and hardware
N.O.S. vintage 'key' components for the original tone, feel, and dynamics
4 Knobs, being the fourth one the replacement of the original switches
'Forbidden Setting', the explosive, brutal, gated Fuzz mode found on the EX-2000 and EXP-2000R
Internal Guitar-Bass switch of the EXP-2000R
True Bypass
Release date will be announced in the coming months through the website and Decibelics social media. If you want to be notified when the first Pre-Orders come out, click the Subscribe button (Select 'Standard Version' above and the button will appear)
Graphics and color scheme shown above not definitive – both images are just temporary mock-ups.
This page will be updated periodically – Come back from time to time to see how this project takes shape!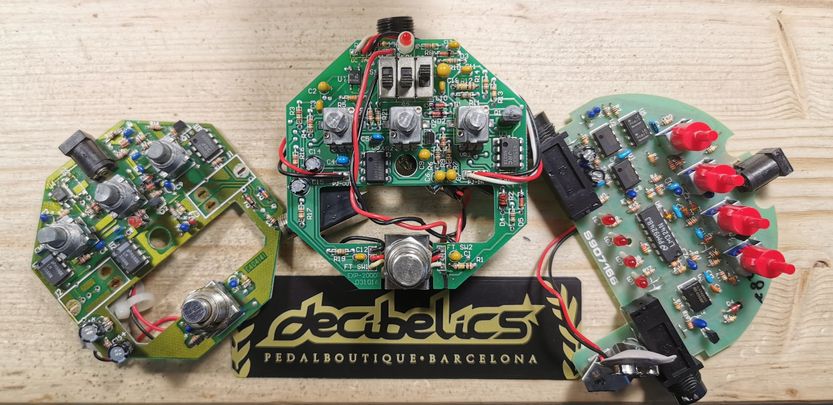 ZZ TOP's Billy Gibbons and his famous 6-in-a-row Expandora display