DECIBELICS BIG VINTAGE KLONE – DISCONTINUED
The Big Klone was a sort of a single-side Golden Royale, an accurate sonic klone with added Bass and Clipping switches. It was produced in extremely limited quantities. Each pedal used a plain gold or silver case similar to the original but with no original lettering except for the controls and rear jacks text. To never be confused with any original, a large Decibelics logo was prominently displayed on both the big blue PCB and on the back of the pedal. A handful of Big Klone with similar lettering to the original exists, in most cases because the client provided their own enclosure.
Due to difficulties in obtaining some of its specific parts, production of the Big Klone was halted by the end of 2020. I am working on reintroducing this rare pedal model in the future. The new version will probably have Decibelics' own lettering on the top face. Here's a mockup: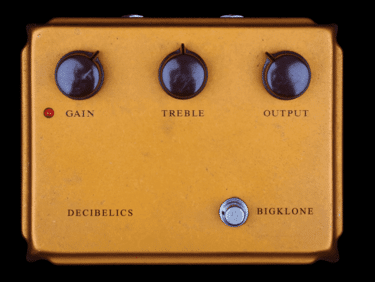 For updates on the potential return of the Big Vintage Klone, please follow Decibelics on Facebook or Instagram. Please note that there is currently no waiting list for this pedal, as its return is uncertain.