DECIBELICS GOLDEN ROYALE PROFESSIONAL DUAL OVERDRIVE
Handcrafted from carefully selected parts with extreme attention to detail, the Decibelics Golden Royale is a part-for-part replica of the legendary Klon Centaur Professional Overdrive in a dual format. It includes the same hard-to-find parts as the original and the acclaimed Decibelics Golden Horse, such as the New Old Stock Panasonic ECQ-Series capacitors and the 1N34A N.O.S. Germanium Diodes. It also uses the same combination of carbon and metal film resistors, the tantalum cap, and through-hole electrolytics. Circuit and component values are exact sonic reproduction of an original gold Klon Centaur, horsie close-tail, serial number #2505 from 2001 of my particular collection – a selected best tone unit.
It consists of two Decibelics Golden Horse circuits, A&B, with two separate channels that can be used either individually or stacked. It solves the eternal dilemma of using a single Klon/Golden Horse either as a Clean Boost or as an Overdrive, and opens a new world of exquisite tones and textures when combining both channels.
Each side of the Golden Royale includes the famous Bass Switch and Clipping Switch found in the Decibelics Big Vintage Klone Professional Overdrive. With all switches to the left (Default OR mode) the Golden Horse core tone remains unaltered – Original sound. With BASS switches to the right, both sides have the same Bass Boost, adding significant low-end content while still keeping everything tight and articulate, which will be appreciated by single coil players. With CLIP switches to the right, Channel A has a combination of Schottky Silicon Diodes, while the B-Channel has a combination of Schottky and Low Fv LED.
The Golden Royale is offered in either Standard Black and the Special Colors. Special Colors are Crystal White, Hammered Green, Hammered Blue, and Hammered Copper.
The Golden Royale is built to order and following a waiting list only. It can only be pre-ordered direct from me through PayPal, or through a private reverb.com order. To be added to the list, send me an email ( guillem@decibelics.com ) or a message with the following information:
– Complete shipping address (+Phone Number)
– PayPal address
– The Golden Royale version(s) you want to order
I will send you a confirmation message within the next 72h. If you don't receive my reply, please check your Spam folder. Waiting times are shown on the Decibelics website header. Being added to the waitlist doesn't require to send any payment: only until you reach the top of the list I will message you and send a PayPal Invoice to proceed with your Pre-Order. The build time after sending the payment is around 3 to 4 weeks.
Price information links (Select your country and currency):
Standard Black: Click Here
Special Colors: Click Here
Specs:
+ Exact sonic reproduction of my original gold Klon Centaur, horsie close-tail, serial number 2505 from 2001 (See pictures above) Among my Silver and Gold originals, this particular unit was undoubtely the one with the best tone.
+ 1590BB luxury format, vintage and thru-hole components, totally built one by one, with extreme dedication. Fruit of years of experience studying the circuit and building Klones for professional guitar players.
+ Same Panasonic ECQ-Series N.O.S. capacitors as the original
+ Same N.O.S. 1N34A Germanium diodes (Clear crystal and black band as the original, made in USA) – The commonly known as Magic Diodes (No russian blue and red stripped diodes as others mount– Same as the original!)
+ Same combination of carbon and metal film resistors
+ Same Tantalum capacitor in position C16
+ Same format on capacitors in values above 1uf -Electrolytics- adapted to the size of the pedal
+ Same Charge Pump that raises internal voltage from 9V to 18V for bigger headroom
+ Same values and highest quality in the other components: Opamps TL072 from Texas Instruments, noiseless Charge Pump from superior quality, Alpha potentiometers, Footswitch Alpha DPDT, Taiway SPDT mini switches, Amphenol jacks, Aluminium enclosure powdercoated and screen-printed by hand
+ Buffered bypass, same as the original, with correct values
+ PCB board of my own design, with parasitic noise level optimization
Accessories included: White Shipping Box deluxe (Foam inside), 4 Rubber Feet, English Manual, Certificate of Authenticity.
I can mod the standard pedal to reverse the clipping options or make it with TRS jacks to separate channels. More info about these mods at the bottom of this page.
I ship from Barcelona, Spain (Europe) – I use UPS, FedEx, and Correos Express. Tracked and Insured. Transit time is usually less than a week, but may vary depending on the destination country.
Dimensions: 120mm x 98mm / 5.72″ x 3.85″
Current Draw: 45mA – Standard negative tip – 9V Only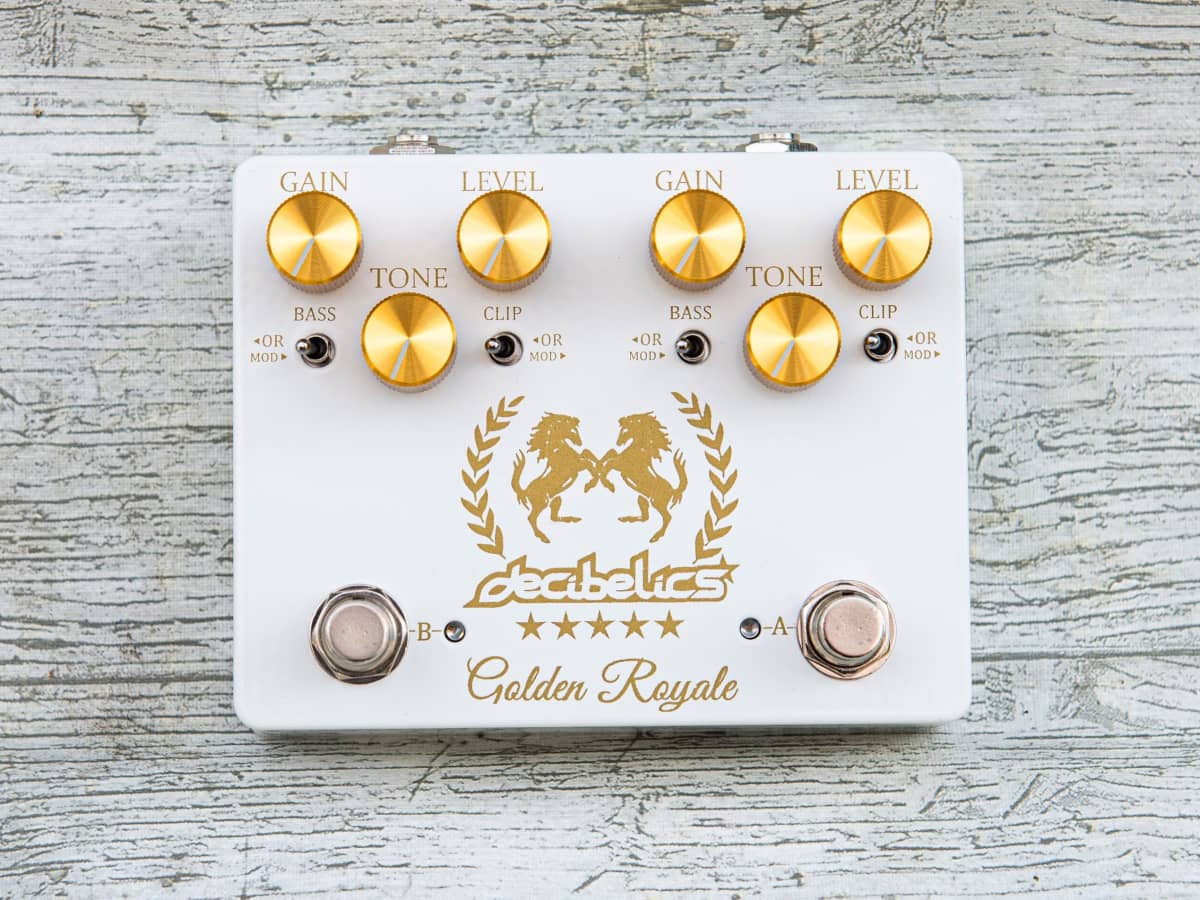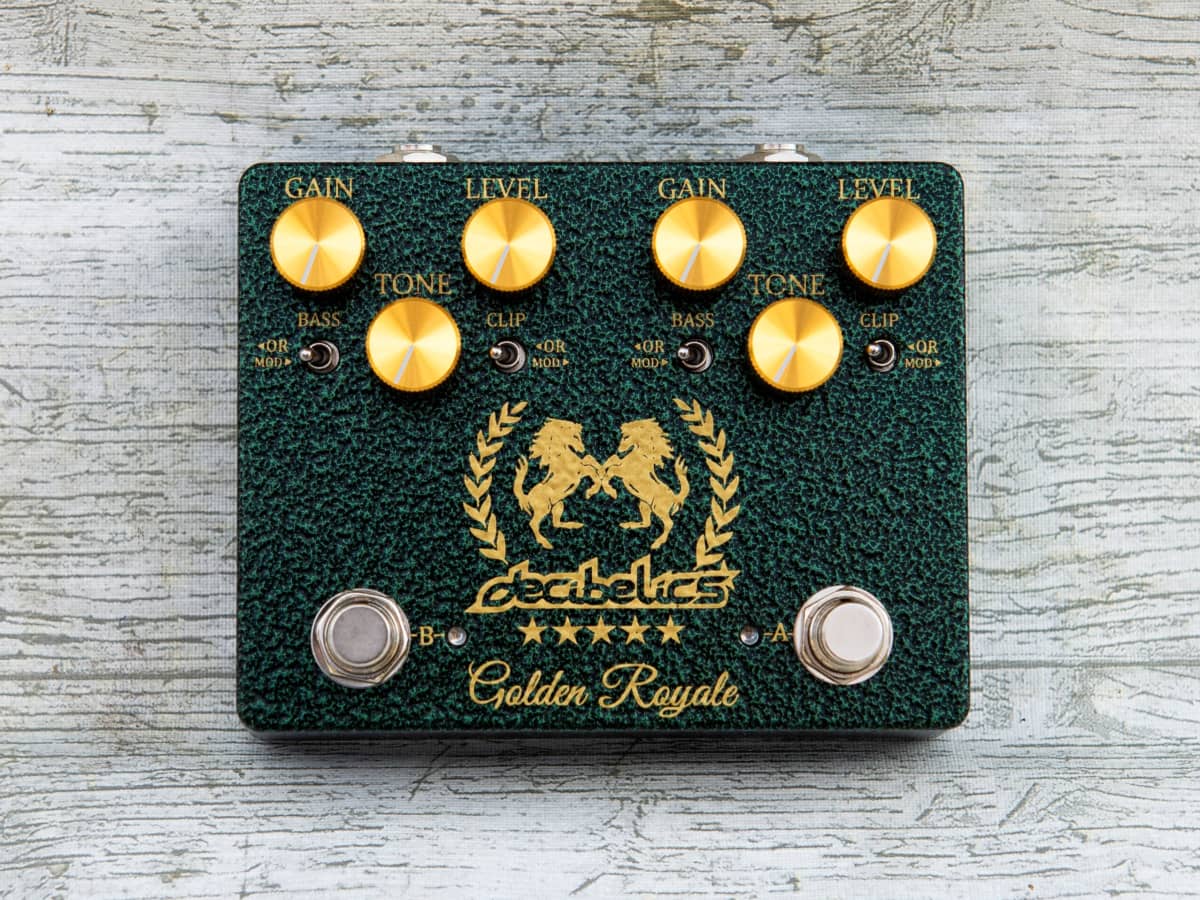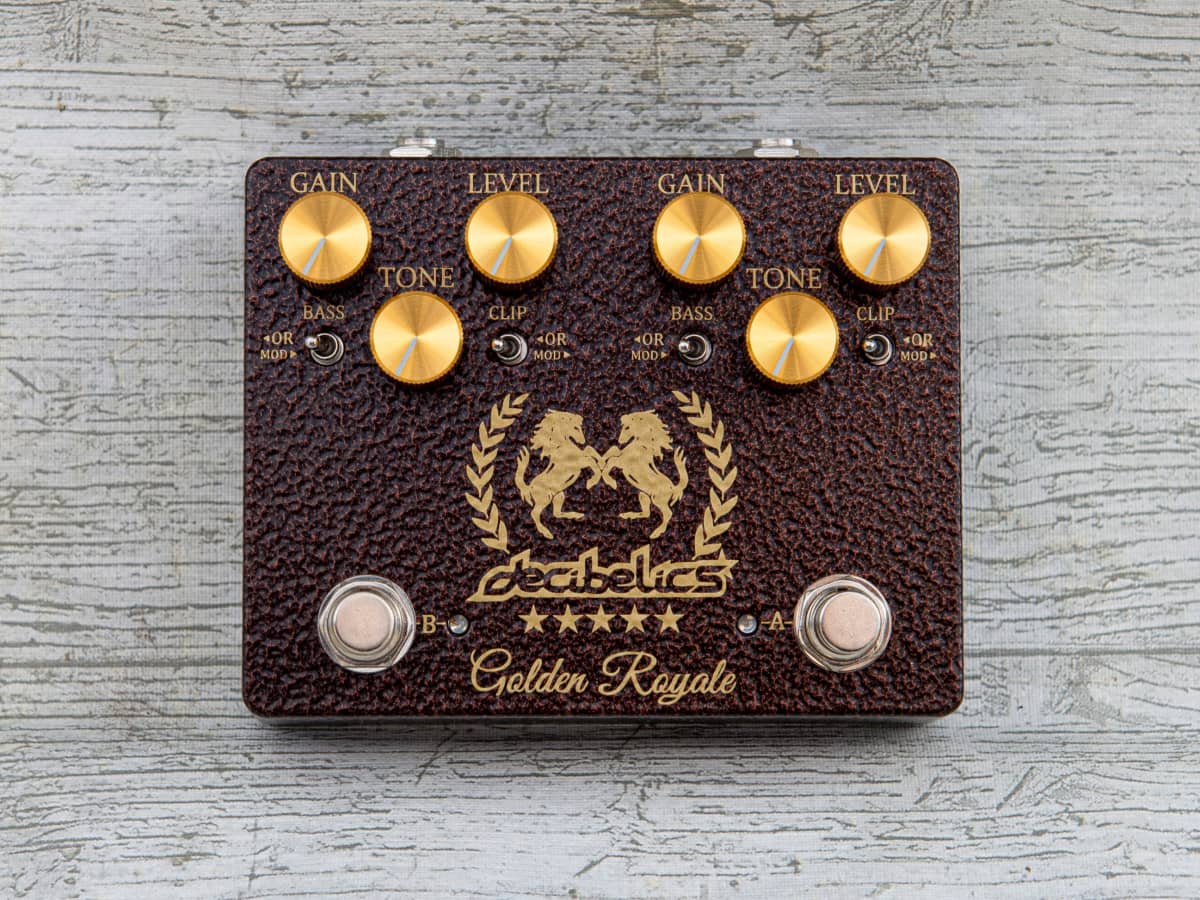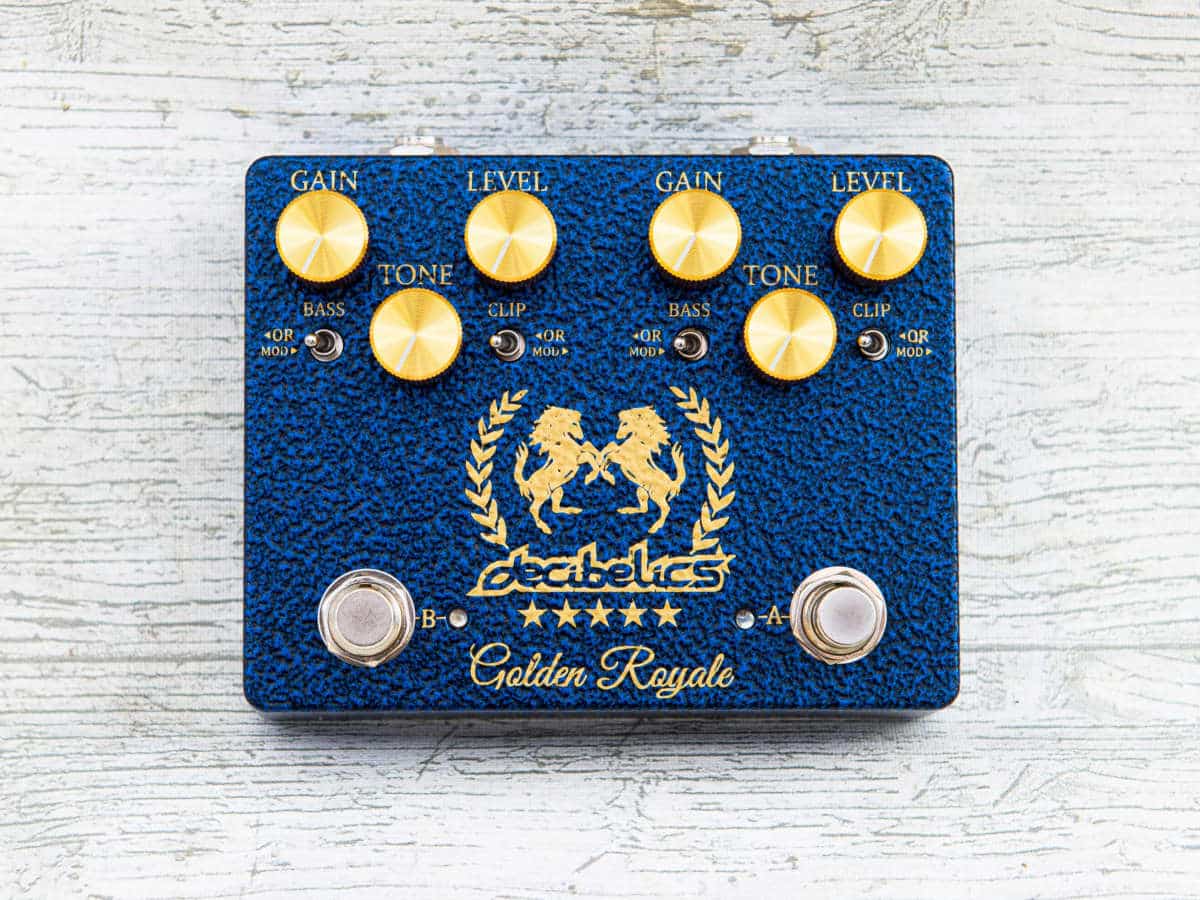 ABOUT THE ALTERNATIVE MODS
TRS MOD
The TRS mod changes and rewires the standard TS jacks for TRS jacks to separate the input and output of both sides and switch them on or off externally.
As standard, the right side jack is the input for both channels, and the left side jack is the output for both channels.
With the Mod, the right side jack is the input AND output of the right channel, and the left side jack is the input AND output of the left channel.
With this mod, special patch cables are required (not included):
– If you use a standard TS switcher like the Boss ES8, you need Y-type patch cables (TRS to 2xTS)
Examples: EBS ICY30, Sssnake YPP2010
– If you use a TRS switcher like the Gigrig, you need TRS to TRS patch cables
Just keep in mind that a TRS Golden Royale would not operate with standard jacks, and viceversa. The mod can be easily reversed but should be done by me as it involves removing and rewiring a few components.
TIP is the input of the channel
RING is the output of the channel
Due to the heterodyne effect of the Centaur's charge pump, I don't recommend this mod if you intend to use the Golden Royale on the highest gain settings (gain knob at 80% or higher on both channels)
DIODES IN 'MOD' SWITCH
The Golden Royale as standard has 3 levels of clipping, from less to more "heavier":
– Pair of Germaniums (SOFT)
– Pair of asymmetrical Schottky (MID)
– Pair of Schottky/LED (HARD)
Germaniums is the original sound you already know: silky, creamy, significantly compressed. Schottky/LED is heavier, more aggressive and saturated, open and loud. The pair of Schottky in asymmetrical sits between the two.
By default, Right Channel has Germanium on the 'Original' side of the switch (SOFT) and the 2xSchottky on the 'Mod' side (MID), while Left Channel has Germanium on the 'Original' side (SOFT), the Schottky/LED combination on the 'Mod' side (HARD).
If you want, I can change the diodes in the 'Mod' side of any of the two channels of the Golden Royale, for example:
– Schottky/LED (HARD) on Right Channel
– 2xSchottky (MID) on Left Channel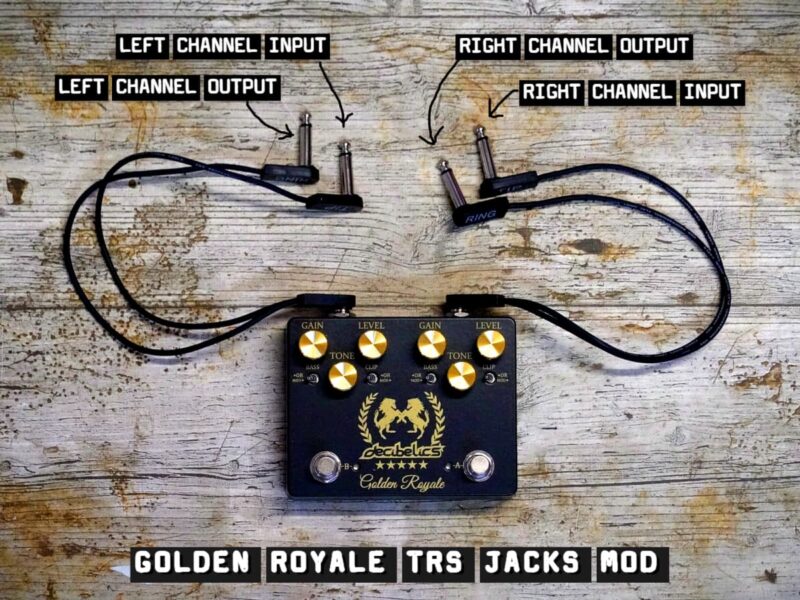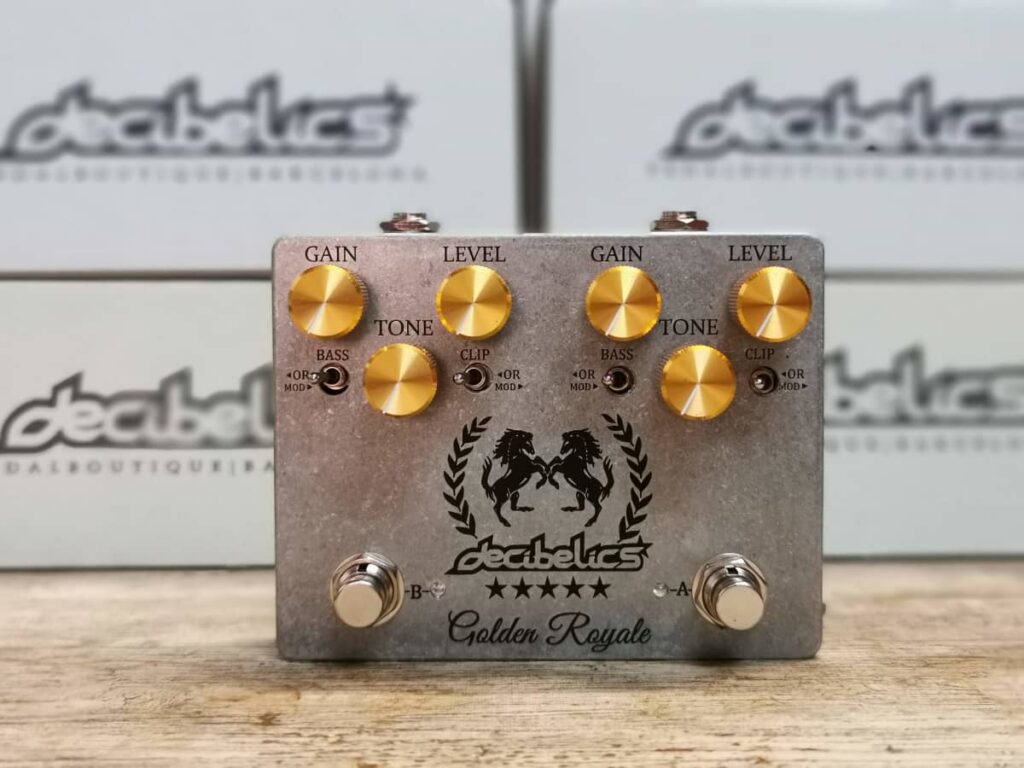 GOLDEN ROYALE FINAL PROTOTYPE, DECEMBER 2020 – UNPAINTED
(FINISH NOT AVAILABLE)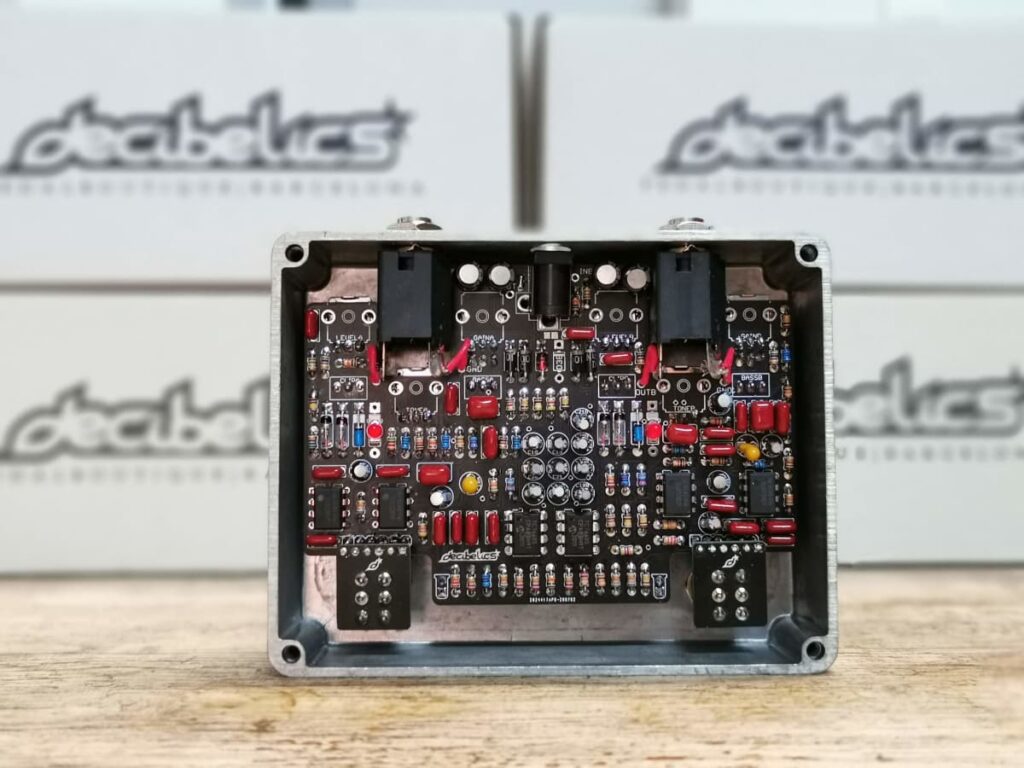 PANASONIC N.O.S. CAPS, 1N34A N.O.S. GERMANIUM DIODES,
TANTALUM CAP, METAL/CARBON RESISTOR MIX,
TEXAS INSTRUMENTS TL072… NERDY BEYOND BELIEF
GOLDEN ROYALE AT DELICIOUS AUDIO'S PEDAL BLOG